20 Popular Bathroom Tile Ideas
3 min read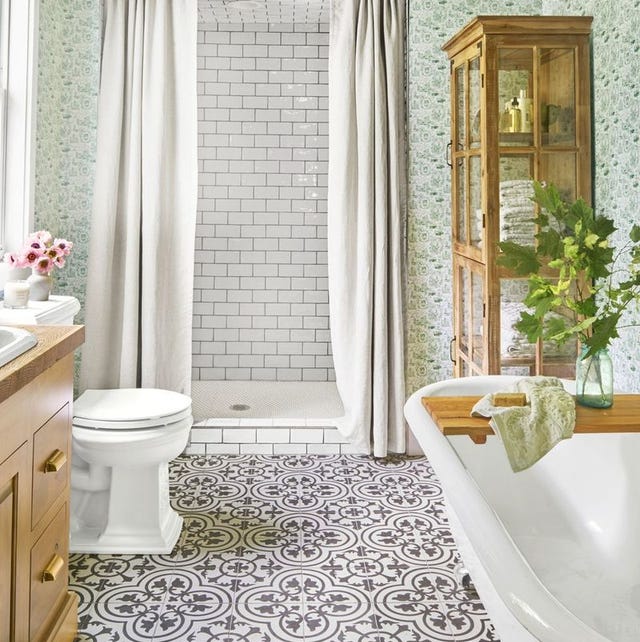 Annie Schlechter
When it comes to choosing the perfect bathroom tile, there's so much to consider. You can go with subway tiles for a classic look, experiment with an unexpected shape like hexagon, or even choose to incorporate multiple graphic patterns into your bathroom. The options are endless.
If you're looking for inspiration, browse this selection of 20 gorgeous bathroom tile ideas. Whether you'd consider yourself a maximalist or a proud minimalist, you're sure to find the perfect bathroom tile to suit your style and budget.
1 of 20
Penny Tiles
Penny tiles create a focal point against the cornflower blue shower curtains in this charming bathroom filled with subdued shades of gray.
2 of 20
Striking Marble
White marble with light gray veins adds a sophisticated elegance to this shower design.
3 of 20
Untraditional Tile
Rather than opting for straight rows of mosaic tiles, have fun with it by changing the orientation. Here, a diagonal herringbone pattern adds interest to the wall.
4 of 20
Mixed Tiles
A mix of patterned and subway tiles balance this bathroom's wallpapered walls and dark ceiling.
5 of 20
Honeycomb Tiles
Thanks to an unexpected honeycomb pattern, this shower is Instagram-worthy.
6 of 20
Interlocking Effect
Blue cabinetry and tiles in an interlocking pattern add flair to a traditional cream backdrop.
7 of 20
Checkered Look
Brown-and-white checkered flooring brings this bathroom to life.
8 of 20
Stormy Hue
Gray floor tiles contrast beautifully with the copper soaking tub and deep navy wall.
9 of 20
Blue and White
Patterned blue-and-white tile floors steal the show in this bathroom design scheme.
10 of 20
Glossy White
Large white tiles in a glossy finish complement this bathroom's soothing walls.
11 of 20
Black Meets White
A black-and-white palette doesn't have to be boring. In this bathroom, a wall of black paint and white subway tile along with hexagon patterned flooring create visual interest.
12 of 20
All White
White penny tiles and white-washed siding prevent this small bathroom from feeling cramped.
13 of 20
Retro Style
Daring pink tones, including hexagon patterned floor tiles, add to this bathroom's retro vibe.
14 of 20
Bold Stripes
Neutral floor tiles serve as the perfect counterpoint to this bathroom's bold striped walls.
15 of 20
Watery Blue
Crisp white tones benefit from the shower stall's small watery blue tiles.
16 of 20
Striking Florals
White wood panels give this bathroom a rustic touch, while floral floor tiles offer an element of surprise.
17 of 20
Statement Gingham
For a preppy yet chic look, go for black-and-white floor tiles boasting a gingham pattern.
18 of 20
A Pop of Turquoise
An accent wall of small turquoise tiles adds a jolt of personality to this bathroom setup.
19 of 20
Pastel Blue
Pastel blue is a no-fail choice to pair with cream and wood tones. Here, large cream tiles ground this bathroom, while soft blue patterned floor tiles add a dose of drama.
20 of 20
Mint Green
In this bathroom, mint green tiles add a playful element while neutral tones add a sense of warmth.
Advertisement – Continue Reading Below
This content is created and maintained by a third party, and imported onto this page to help users provide their email addresses. You may be able to find more information about this and similar content at piano.io