20 Chic Bookshelf Decorating Ideas
3 min read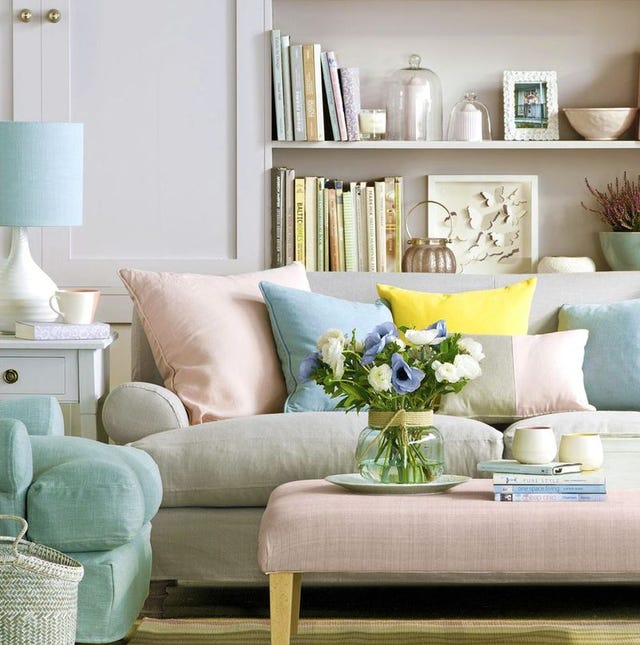 Dominic Blackmore
There's nothing a book lover appreciates more than a comfortable, stylish spot to enjoy their collection. When it comes to design, this can translate to a cozy nook with a few floating shelves or a spacious library with floor-to-ceiling built-ins. Plus, the styling opportunities for bookshelves are endless. You can decorate shelves with artwork or lush greenery, dress them up with a trendy paint color or wallpaper, stack books vertically or horizontally — the list goes on and on.
To offer some guidance on how to decorate your own bookshelves, consider this roundup of inspiring designs. These 20 bookshelf decorating ideas are proof that creativity, attention to detail and a well-curated collection are all it takes.
1 of 20
A Lesson in Scale
Every bookshelf deserves that one oversized statement piece, like a brass geometric sculpture or a heartwarming black-and-white photograph.
2 of 20
Vignette on Top
If you have a collection — vintage fans, for instance — make them a part of your bookshelf setup. Fill the empty space on top of your shelves with your treasured finds.
3 of 20
Layers of Accessories
Upgrade all-white shelves with unique decor, including a petite table lamp and striking vases. Keep stacks of books to a minimum to let your design aesthetic shine.
4 of 20
Toy Display
Curious about how to encourage your kid's love of reading? Complement a playful display of books with some of their favorite colorful toys.
5 of 20
Concealed Collection
If your shelves are on the ornate side, show them off by placing books in matching storage bins.
6 of 20
Blue Penny Tiles
Thanks to baby-blue penny tiles, these custom office shelves, which are inspired by a mid-century modern credenza, are the perfect old-meets-new-look.
7 of 20
China Collection
There's no reason why you can't use your shelves to highlight a treasured china collection. Balance the display with color-coordinated books.
8 of 20
Coastal Vibe
Play up a coastal feel with greenery (a small palm tree is a no-fail choice), woven baskets and a container full of seashells.
9 of 20
Worldly Look
Miss traveling abroad? Use your bookshelf to showcase some of the curios you've collected over the years. Finish the look by placing a few globes on an upper shelf to stay on theme.
10 of 20
All White
White shelves dressed with wooden decorative boxes and neat book stacks bring character to this living room setup.
11 of 20
Pastel Touches
Accessories boasting pops of soft pink, robin's egg blue and lemon yellow are a brilliant choice for a spring shelf upgrade.
12 of 20
Office Setup
From a framed diploma to a brass tea set, this well-styled etagere brings charm to this office space.
13 of 20
Books Galore
Sometimes more is more, and these fully stocked bookshelves are proof.
14 of 20
Lush Greenery
Give your office space life — and a dose of style — by scattering succulents and plants on your shelves. It's an easy way to bring the outdoors in.
16 of 20
Shelves with a View
You can't go wrong with the combination of an inviting window seat and sleek built-in bookshelves.
17 of 20
Playful Nature
Lean into the relaxed vibe of a kid's nook by sprucing up unfinished wood bookshelves with games and toys.
18 of 20
Art Over Shelf
For an unexpected look, display your favorite piece of artwork directly in front of your bookshelf. What's more, it's easy enough to change from season to season or whenever you're in the mood for a fresh feel.
19 of 20
Sophisticated Flair
Elevate shelves with an attractive assortment of brass objets, framed artwork, ceramics and more.
20 of 20
Rustic Design Scheme
Add contrast to a bedroom's rustic elements with simple white shelving styled with minimal accessories.
Advertisement – Continue Reading Below
This content is created and maintained by a third party, and imported onto this page to help users provide their email addresses. You may be able to find more information about this and similar content at piano.io