12 Best Creative Stuffed Animal Storage Ideas
4 min read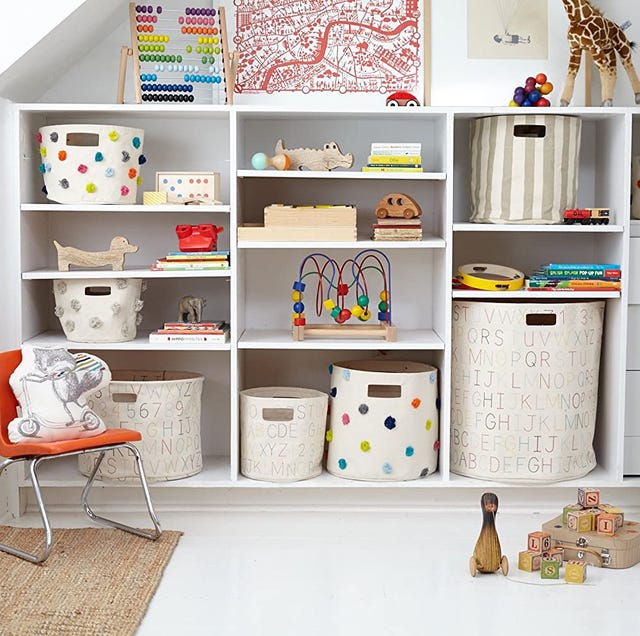 Pehr
If you live in a house with kids, toy organization is a constant challenge. And even within the realm of toys, there's no bigger problem than stuffed animal storage. Those stuffies are bulky, so they take up a lot of room. If you dump them all in a pile, the ones at the bottom never get seen or played with. And kids just seem to keep on acquiring more and more of them, so it's hard to keep the collection at bay. It's a constantly-evolving struggle.
When you're looking for good stuffed animal storage, a few things are key: First off, you want something that'll keep the loveys off the floor, so they don't get stepped on or tripped over. Then, it's ideal if your kids can see their collection, so they can easily find the fuzzy friend they're looking for. But you also don't want to devote too much space to stuffed animals.
These clever stuffed animal storage ideas can work no matter how much room you have. Some will easily contain little collections and display them on the walls. Others are more serious — more akin to furniture — but will hold more animals and look nice in a kid's room. And, if it's still too much, you can always talk to your child about donating stuffed animals to a good cause.
Advertisement – Continue Reading Below
Toy Chain
Dreambaby
wayfair.com
$20.90
Floating Wall Shelves
If your child has a small stuffed animal collection — or wants a special place to put their favorites — these floating shelves do double-duty: They keep stuffies organized and provide instant room décor!
Hanging Closet Organizer
Criusia
amazon.com
$14.98
These hang from the rod in a closet, and while they usually house clothes, they're also perfect for stuffed animal storage. (Over-the-door shoe racks work, too.) Your kids can see and access all their loveys easily, and if all the clutter is driving you up the wall, you can just shut the closet door and they're out of sight.
Canvas Storage Bin
3 Sprouts
amazon.com
$26.99
Coiled Rope Floor Basket
Threshold
target.com
$30.00
You can't go wrong stashing these coiled rope baskets in every room of the house, using them as catch-alls if they're not housing stuffies. Kids can use the built-in handles to drag them to wherever they want to play.
Pom Pom Bin
Pehr's pom-pom bins not only look cute, they come in all different sizes, so you can sneak one wherever you have room — small ones for under the bed, hamper-sized ones for unused corners, and so on. You can also get ones with single-colored pom-poms if you don't like the rainbow look.
Wall-Mounted Storage Basket
These come in handy all over the house — in office for mail, in kitchens for spices and, now, in kid's rooms for small stuffed animals. These have little chalkboard labels, so you can make a cute sign that says something like "Olivia's Loveys."
Stuffed Animal Bag
There are lots of stuffed-animal bean bags out there — the ones that let you place all your stuffies in a covering and use them as a cushion — and they come in all sorts of colors and patterns. This one in unique in that it lets kids see into the bag when it's closed, so they can remember what toys they've stuffed in there.
Four-Cube Storage Bench
Better Homes & Gardens
walmart.com
$99.00
Attractive and functional, this bench gives kids a place to sit and play as well as storage cubbies underneath. It comes in seven colors, and a three-cube version is also available.
Mid-Century Kid Toy Box
KidKraft
maisonette.com
$114.99
For stuffed animal storage that looks like stylish furniture, this toy box is a perfect addition to any nursery or kid's room. You can get matched pieces in the same pattern to go with it, like a reading nook or bin cubby.
ZOO Toy Organizer
Little Zookeepers
wayfair.com
$169.90
If you're trying to keep a large collection in a small space, this "zoo" storage lets kids pile the stuffed animals in a 22.5" x 11.5" footprint. Flexible "bars" allow the animals to stay accessible to little hands, even if they're all the way at the bottom.
Three-Tier Bookcase
Costzon
amazon.com
$165.99
Not just for stuffed animals, this three-tier bookshelf has cubbies in the bottom for stuffies, shelf storage for books, a surface for kick-knacks and removable drawers for little accessories. As they get older, they can use the cubbies as a dumping spot for backpacks and other school gear.
This content is created and maintained by a third party, and imported onto this page to help users provide their email addresses. You may be able to find more information about this and similar content at piano.io
Advertisement – Continue Reading Below